How To Find The Best Solar LED Flood Lights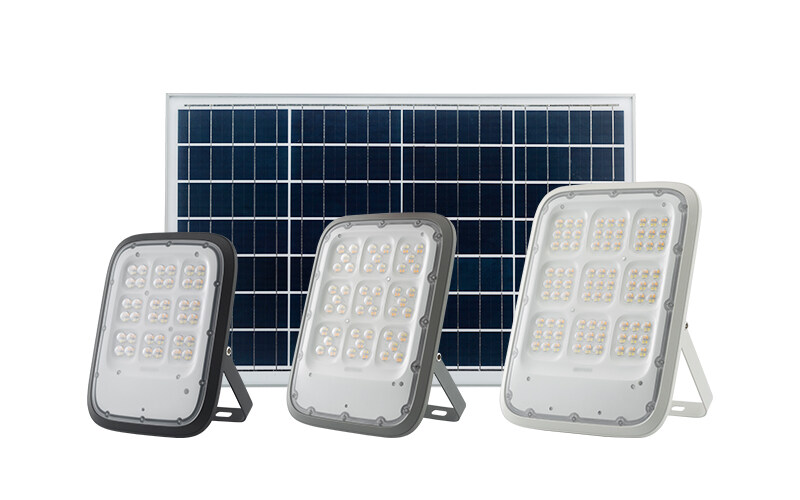 Nowadays, more and more outdoor lighting construction projects tend to choose to use industrial solar floodlights. As you know, the solar flood light is an innovative green energy lighting fixture that does not need an extra power supply, which is suitable for both commercial and residential applications.
However, there are many factors to consider when choosing to buy solar flood lights. How to find the best solar LED flood lights based on your needs? What should we pay attention to when buying solar flood lights?
Installation Environment
The first thing you need to regard is the light conditions, installation height, and other conditions of your use scene. In general:
* Solar radiation varies with the seasons - highest in summer and lowest in winter.
* Solar radiation varies from place to place and from time to time - those in high latitude areas will be weaker than those in low latitude areas.
* Weather and climate conditions - sunny, cloudy, rainy and foggy days, etc., will make the available energy provided by the sun constantly change.
All in all, areas with harsher installation environments should choose solar flood lights with higher configurations. Or else, just choose the right one to save the budget.
Solar Flood Light Configuration
Solar powered outdoor flood lights will inevitably be exposed to wind, rain, snow, ice, and so on. Therefore, you must ensure that the configuration of your lighting is weatherproof.
Housing: The housing of solar LED flood light is usually made of aluminum and durable plastic to ensure water and temperature resistance, protecting the internal components as much as possible from the outside elements.
IP Rating: The IP rating of the best solar LED flood lights is an important factor in durability, which shows how well the lighting fixture protects against water and dust. The IP65 solar flood light and waterproof solar flood light are excellent for outdoor use.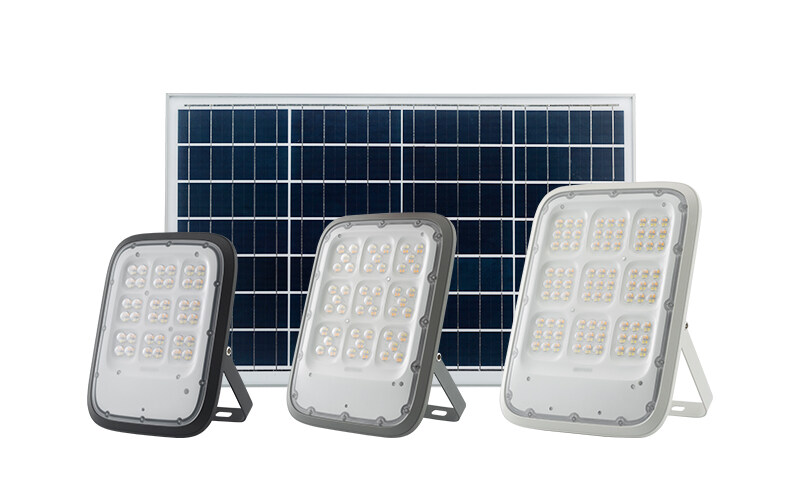 Mounting Hardware: Solar powered outdoor flood lights are often available with a variety of mounting options to suit different installation areas, such as pole-mounted, ground-mounted, etc. Don't forget to check out the type of mounting bracket you need or other mounting hardware options available from solar LED flood lights suppliers when purchasing.
Motion Sensor: Solar powered outdoor flood lights will turn on when the motion sensors detect movement around a specific area. There are three typical types of motion detectors - active sensors, passive infrared sensors, and combination sensors. The solar flood lights with remote control are an operator-friendly option that is very easy to operate.
Light Source
Integrated design - integrated design makes LED directly and closely connected to the housing, heat dissipation through the shell, and air convection, fully ensuring the service life of the LED flood light.
Uniform light distribution - solve the problem of concentrated light beams and obvious dark spots, making the irradiated area of the solar powered outdoor flood lights larger and the light more uniform.
No glare, no flicker – The best solar LED flood lights can eliminate the glare, visual fatigue, and vision interference caused by the bad glare of ordinary street lights to improve pedestrian safety.
Conclusion
When buying solar flood lights, you need to consider more than just price - expensive doesn't mean better, and cheap doesn't mean poor quality. Take the above buying guide into account and check out trustworthy solar LED flood lights suppliers.
Yuefeng is one of the leading China lighting manufacturers & solar LED flood lights suppliers in China. You can find the best solar LED flood lights at affordable prices for various needs of your projects. Don't hesitate to contact us today at yuefengd@yuefeng.com for more details about the best solar LED flood lights!