Top 3 China Integrated Solar Street Lights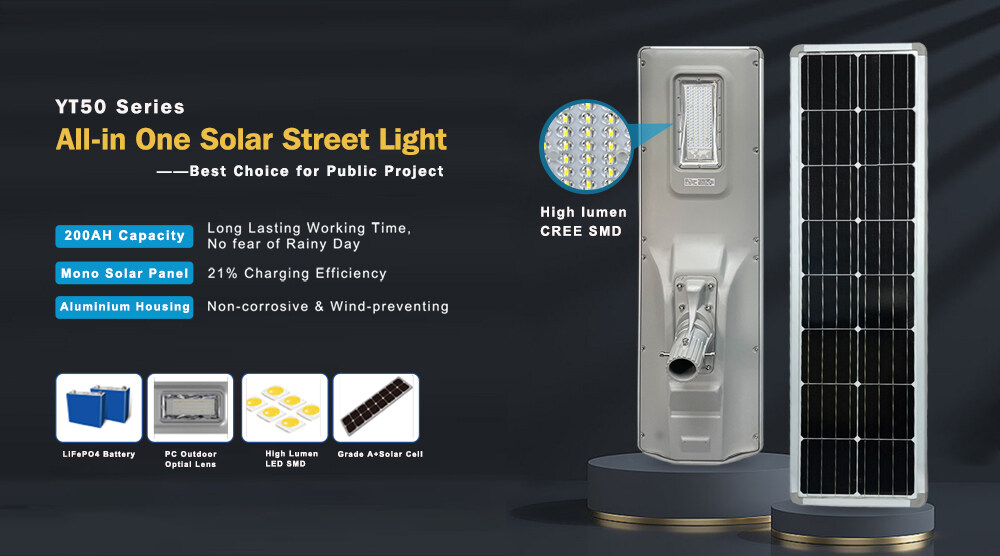 In recent years, solar LED street lights have become increasingly popular thanks to high efficiency, economy and environmental friendliness, and many other benefits. The latest innovations in solar technology have further cut costs and made China integrated solar street light popular worldwide.
Why Choose China Solar LED Street Light?
Solar LED street lights capture the energy of daylight and store it in battery cells. When it is dark, it will power the solar street light as needed. They never run the risk of a power failure because they have the most abundant and eternal energy source - solar energy.
China solar LED street lights are designed to be compact and self-sufficient in terms of power supply. China integrated solar street light is an effective option for a nighttime lighting solution, which is an excellent alternative to traditional street lights. They are perfect for commercial, personal, and residential applications in urban and rural areas.
All In One LED Solar Street Light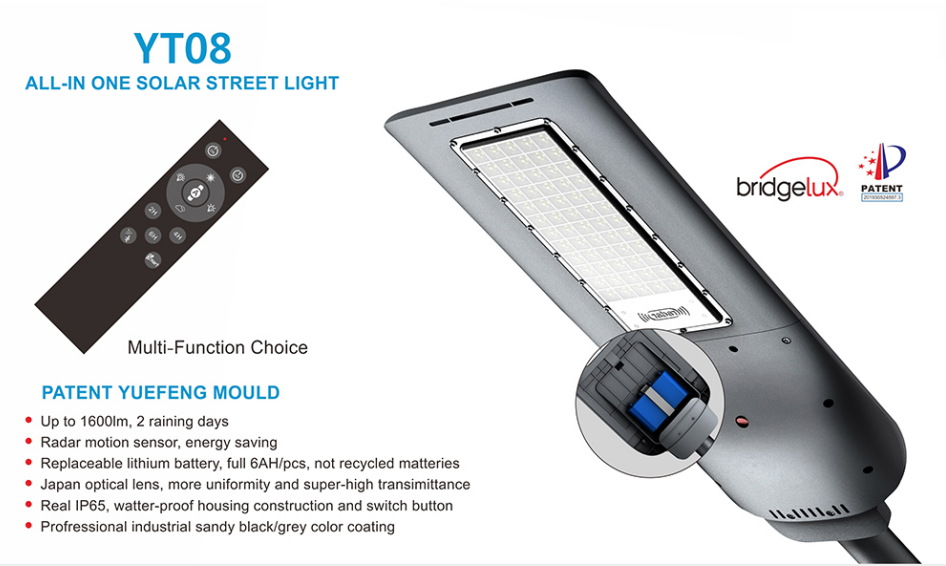 * Patented design with ultra-thin aluminum housing

* High lumen output up to 1600lm (efficiency: 150lm/w)

* Replaceable lithium battery, battery terminals can be wired

* Motion sensor & multi-functional option with remote control

* Self-developed MPPT solar controller, 20% higher charging efficiency than others
Technical Specification
| | |
| --- | --- |
| Model | YT08-90 |
| Solar Panel | 12V 20W Monocrystalline |
| Battery Capacity | 6.4V 12AH LiFePO4 |
| LED Chips | SMD2835 |
| Sensor | Radar Sensor |
| Remote Controller | YES |
| Color Temperature(K) | 3000K/4000K/6000K |
| Real Power & Lumen | 11W 1600LM |
| Installation Height | 4-5m |
| Beam Angle | 80°*80° |
| Body Material | Aluminum+PC |
| Raining Days | 2-3 Days |
| IP Rating | IP65 |
| Mounting Type | Pole or Wall |
| Charge Time | 4-6Hrs |
| Working Time | 20-24Hrs |
| Finish Color | Gray |
| Warranty | 2years |
China Integrated Solar Street Light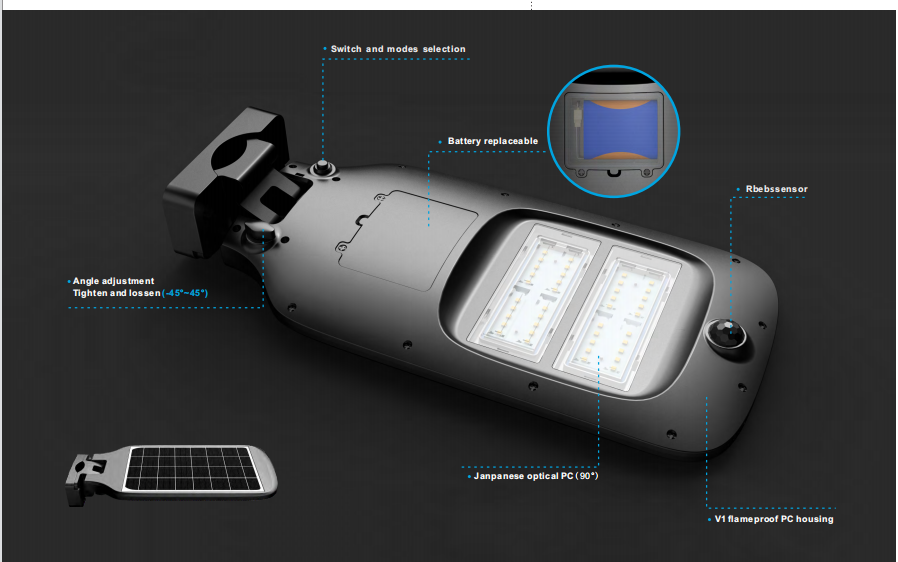 Integrated Solar Street Light Supplier
Sturdy construction
The solar powered LED street lights are made of aluminum alloy housing which is very sturdy. As a result, they can easily survive harsh weather conditions and make the device cost-effective for long-term use.
Modern Designs
This China integrated solar street light features a sleek new design that not only makes them look good on any outdoor usage, but also increases their efficiency. Thanks to the radar sensor, when someone comes, it will light up at 100% brightness within 15 seconds. Otherwise, it will stay on at 20% brightness.
Flexible setup
With adjustable metal brackets and poles, the China solar LED street light can be installed easily on walls, floors, ceilings, or any other position. Since installation is so flexible, you can also effortlessly light up any place with these China integrated solar street lights.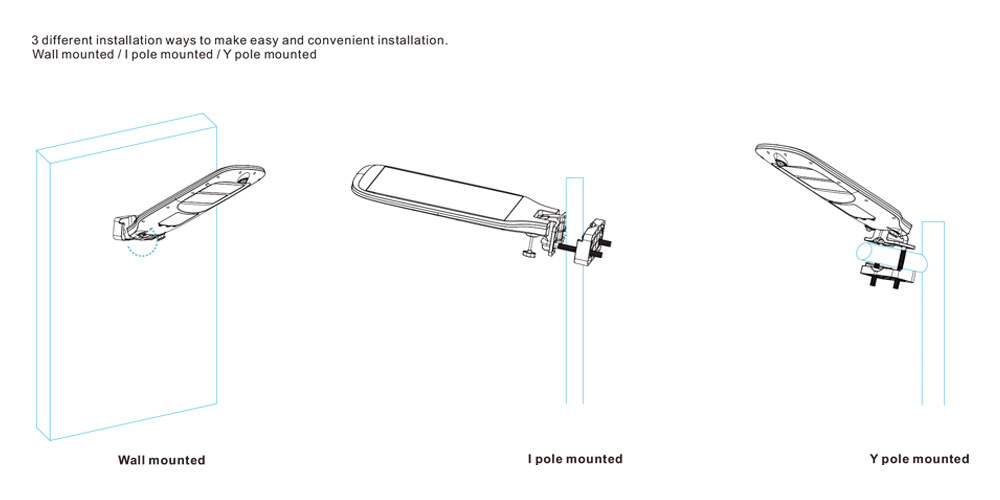 Solar Street Lights Wholesale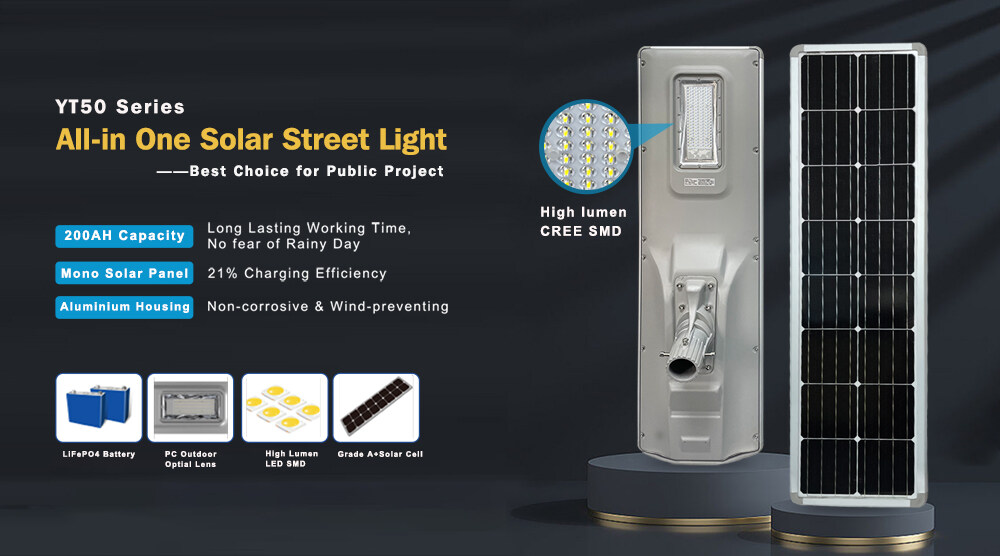 This solar LED street light is a patented model of Yuefeng. The streamlined design is quite in line with the aesthetics of contemporary people. Equipped with a remote control, you can choose the mode according to your needs.
If you are looking for first-class solar street light products, it is important that you choose a reliable and experienced solar street light company to work with. This will ensure that you can find the best quality solar powered LED street lights at the most reasonably integrated solar LED street light price.
Final Word
These solar powered LED street lights are excellent choices for safe, eco-friendly, and energy efficiency. Yuefeng, the best solar street light manufacturer in China, offers high-quality wholesale solar street lights that can reduce your electricity bill effectively. Our China solar LED street lights provide security by illuminating specific areas and help prevent accidents at night. Please feel free to contact us at yuefengd@yuefeng.com for more info!